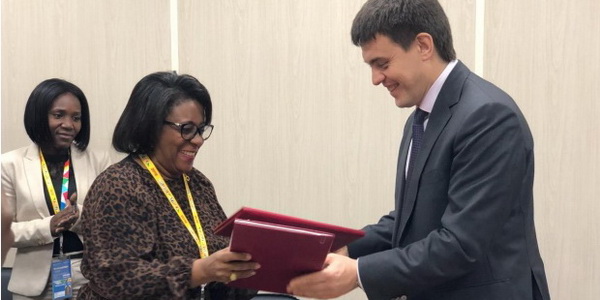 As part of the Russia-Africa Economic Forum in Sochi Minister of Higher Education, Science, Technologies and Innovations of the Republic of Angola Maria do Rosario Bragança Sambo and Minister of Science and Higher Education of the Russian Federation Mikhail Kotyukov signed the Agreement on Mutual Recognition of Education, Qualification and Academic Degrees.
The agreement updates the regulatory framework of bilateral changes in education taking into account the changes that have taken place in the education systems of the two countries over the last 30 years. The document will enhance attractiveness of Russian education. Foreign education, qualifications and academic degrees obtained in the Republic will be recognized in the Russian Federation automatically and free of charge, thus streamlining admission of Angolan students to Russian universities, as well as employment of graduates on return to their home country.
Kotyukov confirmed that the Ministry of Education and Science of the Russian Federation was ready to provide further assistance to Angola in training highly qualified specialists and stressed the importance of expanding international cooperation in the sphere of science, technology and innovations. The Minister noted that the Angolan delegation was planning to visit RUDN, Lomonosov Moscow State University, NUST MISiS, and Russian State Geological Prospecting University named after Sergo Ordzhonikidze.
Russian-Angolan educational cooperation has positive dynamics of development. Today, over 1,300 Angolan students are studying at Russian universities, and the number is growing year on year.
The main fields of study chosen by Angolan students are general medicine, chemical technologies, oil and gas engineering, construction, electrical power engineering and electrical technology, design and technology of machinery production, infocommunication technologies.
The citizens of Angola study, in particular, at RUDN, NUST MISiS, Kuban State Technological University, Belgorod State University, Don State Technical University, Ufa State Petroleum Technical University. The largest number of students from Angola study at RUDN (62) and MISiS (56).