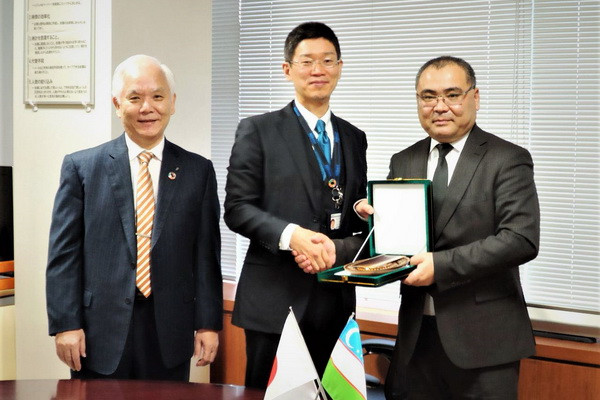 Ibrokhim Abdurakhmonov, Minister of Innovative Development of the Republic of Uzbekistan, met in Tokyo with Michinari Hamaguchi, President of the Japan Science and Technology Agency. During the meeting the parties discussed the issues of further strengthening of cooperation between the two countries in science and education, and bringing of such cooperation to a new level.
Following the negotiations the Memorandum on cooperation was signed between the Japan Science and Technology Agency (JST) and the Ministry of Innovative Development of the Republic of Uzbekistan. It should be noted that the Japan Science and Technology Agency is affiliated with the Ministry of Education, Culture, Sports, Science and Technology of Japan and is one of the main government agencies in the field of commercialization of new technologies and financing of basic research based on the tasks set by the government in the field of science and technology.
This document provides for the measures to incorporate the Ministry of Innovative Development into the global research council, a virtual organization that comprises heads of scientific and technological financial institutions from all over the world. It supports best practices to ensure a high level of cooperation between financial institutions all over the world and is intended for mutual data sharing.
Besides, in cooperation with Tokyo University of the Arts, as part of the SAKURA Science Plan program, Uzbek and Japanese scientists and specialists share experience in science and technology. There is also an exchange of academic staff in the field of restoration of cultural and architectural heritage.
Uzbekistan will establish extensive partnership with the SATREPS program implemented in cooperation with the Japan Science and Technology Agency (JST) and the Japan International Cooperation Agency (JICA). As part of the SATREPS program the partners will implement research projects aimed at solving the problems of the Aral Sea and water resources in the field of agriculture, irrigation, meteorology and medicine. This project provides for direct investment by allocating 1 mln. USD to Uzbekistan.
In his turn, Michinari Hamaguchi stated that the agency was ready to finance the exchange of students and researchers in the field of engineering and technologies in cooperation with Nagoya University.