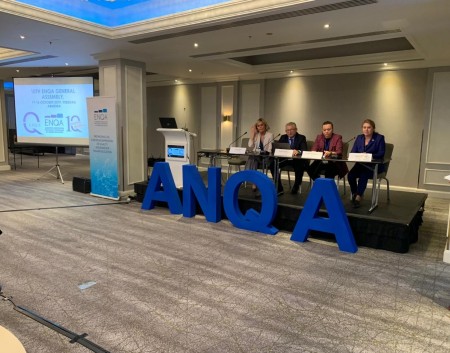 The 10th ENQA General Assembly took place on 17-18 October 2019 in Yerevan, Armenia. The event was organised in cooperation with the National Centre for Professional Education Quality Assurance Foundation (ANQA).
The program of the 10th ENQA General Assembly focused primarily on the future of higher education quality assurance and ENQA's role to play in these future developments. A consolidated version of the ENQA Strategy 2021-2025 was presented. Participants presented thematic posters on various topics and shared their challenges and best practices.
A panel discussion on regional perspectives "The added value of European cooperation in quality assurance" was held with the participation of Ekaterine Bagishvili, Acting Director, National Center for Educational Quality Enhancement (NCEQE, Georgia); Galina Motova, Deputy Director, National Centre of Public Accreditation (NPCA, Russia); Ruben Topchyan, Director, National Centre for Professional Education Quality Assurance Foundation (ANQA, Armenia); Alina Zhumagulova, Director, Independent Agency for Accreditation and Rating (IAAR, Kazakhstan), and Axel Aerden, Managing Director Flanders, Accreditation Organisation of the Netherlands and Flanders.
Thematic posters were presented by ACSUCYL (the Quality Assurance Agency for the University System in Castilla), ACSUG ( Agency for Quality Assurance in the Galician University System), AIC (Academic Information Centre), AQU Catalunya (Catalan University Quality Assurance Agency), QANU (the Quality Assurance Netherlands Universities), and the Quality Board for Icelandic Higher Education, ANQA, EKKA (Estonian Quality Agency for Higher and Vocational Education, Tallinn), EQAR (the European Quality Assurance Register for Higher Education), NCEQE, and QQI (Quality and Qualifications Ireland, Dublin).
Orla Lynch, Adviser Higher Education Quality, Department of Education and Skills, Ireland spoke about trends in quality audits, and Achim Hopbach, Director, Agency for Quality Assurance and Accreditation Austria (AQ Austria) presented a report "Reflecting on the future of quality assurance".