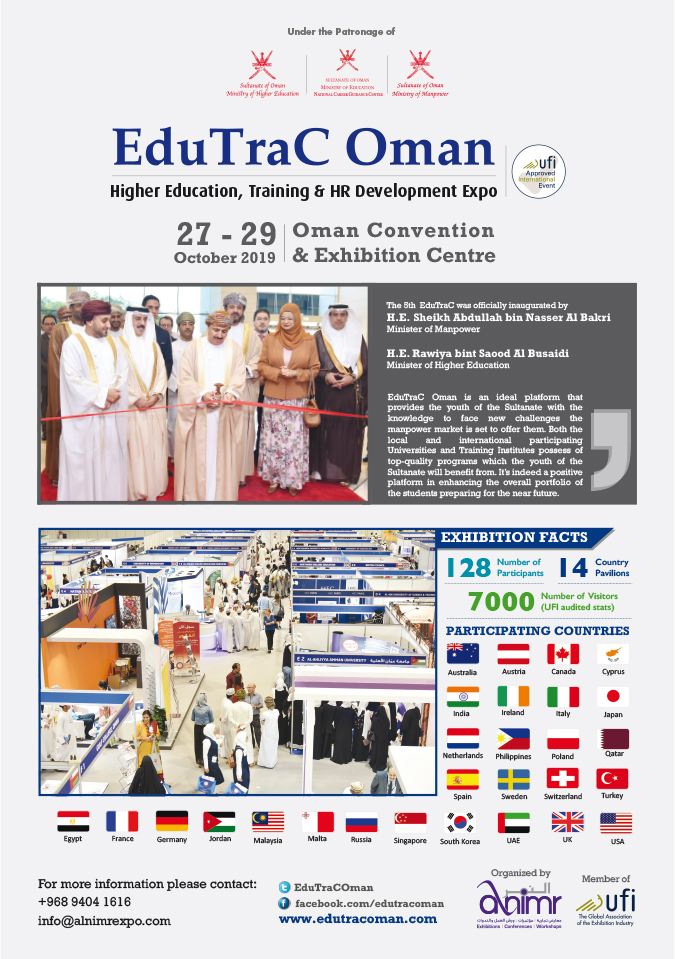 The 6th edition of the Higher Education, Training & Career Development Expo will take place from 27 - 29 October 2019 at the Oman Convention & Exhibition Centre in Muscat. This event is endorsed by the Ministry of Higher Education, Ministry of Manpower and Ministry of Education – National Career Guidance Center Oman.
The renaissance era in the Sultanate of Oman is experiencing significant reform since the dawn of modern renaissance. Thanks to the strategies and policies designed by His Majesty Sultan Qaboos bin Said, substantial importance has been given to invest in Oman's Human Capital by focusing on Education, Technical & Vocational Training, Human Resource Development and Small and Medium Enterprises. In the 9th Five Year Plan 2017 - 2020, 34% of the total expenditure has been allotted to improve the quality of learning, research and development and manpower training. To highlight the surge in the Sultanate's education, training and human resources sector, EduTraC Oman 2019 will take place.
EduTraC Oman will provide an excellent opportunity for students, graduates and human resource professionals to meet with admission officers, career counselors and HR personnel for academic opportunities and career guidance. The Expo welcomes those interested in pursuing their higher education abroad to explore the variety of courses being offered and to meet representatives from Universities, Higher Education Institutions and English Language course providers. Also, visitors can meet leading local & international training institutes offering vocational, technical and occupational training programs. It will also enable visitors to find suitable job opportunities offered by top public and private organizations operating in different sectors in the Sultanate.
EduTraC Oman is organised by Al Nimr Expo and will be open for visitors from 10am to 1pm & 4pm to 8pm.
Higher Education Discovery is an official media-partner of this significant international student recruitment event.
For more information, please contact Ms. Jenitha Martin Email: info@alnimrexpo.com, Phone: 2470 0656 Mobile: 9404 1616 or visit www.edutracoman.com

Watch video presentation of EduTraC Oman 2018: